Save more than just money with the help of wind power
The power of the wind can be harnessed to generate energy. While this technology seems new, harvesting wind energy has been around for a long time.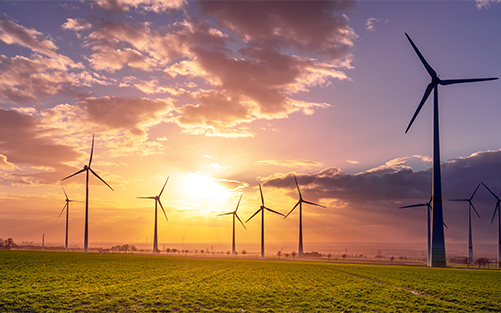 How wind energy works

Today's wind turbines are more technologically advanced than windmills of the past, but the idea is the same. As wind blows past a turbine, it forms a pocket of low-pressure air underneath the three propeller-like blades, pulling the blade toward the lower air pressure through a process called lift. The lift turns the blades around a rotor, which spins a generator and generates electricity.
Technological advancements have led to greater efficiency in converting the wind's energy into electricity, making it easy to see why wind energy in Texas is on the rise. It's also one of the reasons why Gexa is proud to be part of NextEra Energy Resources, the world's largest producer of wind and solar energy.
A better and cleaner Texas


With several wind farms in Texas, NextEra Energy Resources is helping to make the electric grid a whole lot greener.
Wind is a renewable resource that serves as an emissions-free way of generating energy.
Ideal average wind speed for generating electricity is 25 to 35 mph; for safety reasons, wind turbines automatically shut off when winds exceed 55 mph.1
All Gexa plans are backed by 100% renewable energy, at no extra cost. At Gexa, we believe you shouldn't have to choose between caring for the environment and getting a great low rate on electricity. That's why we are proud to offer plans that meet this growing need at no additional cost.
Make the choice that makes the difference
At Gexa, we know that investing in green energy is more than just talk. It's good for the environment, your family and for Texas. Choosing renewable energy plans means all of us will be on our way to a cleaner, greener future.