All Gexa residential plans are powered by 100% green energy at no extra cost!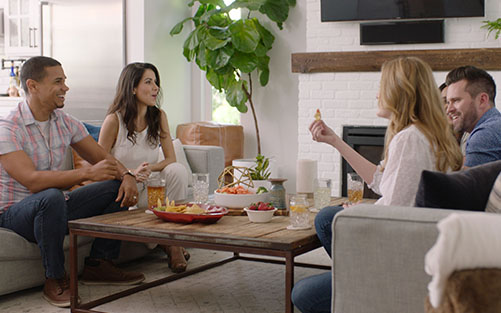 Renewable Energy Plans for Texans
Gexa knows there's no one-size-fits-all electricity plan. That's why we give you the choice to select the plan that works best for you and your home. So no matter if you choose the Gexa Supreme 12 plan or the Free 3-Day Weekends plan, you can rest easy knowing all our residential plans are backed by 100% green energy at no extra cost.
Our plans, your choice
Your energy needs are as unique as you are, and that's why we offer a variety of plans:
Free Time of Use Electricity Plans: Early riser? Night owl? Lazy weekends? No problem. We have a plan for everyone. Choose our Free Mornings and Nights plan and get 12 hours of free electricity every day. Or, choose our Free 3-Day Weekends plan and get more free electricity every weekend.
Usage Plans: Choose the plan that works best for your home based on your electricity usage. For example, if you use between 1,000 kWh -1,500 kWh per month, the Gexa Supreme 12 or 24 plans may work best for your home.
Flexible Plans: We have plans that are as easygoing and flexible as you. With no long-term commitment and no early termination fees, the Gexa Flex plan lets you ease into your relationship with month-to-month variable pricing.
Gexa Happiness Guarantee
Plus, enjoy peace of mind with our Happiness Guarantee.1 If you're not satisfied, simply switch Gexa residential plans within 60 days and we'll waive the early cancellation fee on your original plan.
Make the choice that makes the difference
At Gexa, we know that investing in green energy is more than just talk. It's good for the environment, your family, for Texas. Together, we will be on our way to a cleaner, greener future. View available plans for your area.
Gexa Energy purchases renewable energy certificates from non-affiliated wind and solar generation facilities to match 100% of your electricity usage.
1 Happiness Guarantee - If you're not happy with your new Gexa Energy residential plan, just call us within 60 days of your service activation date, change to another available Gexa Energy plan, and we'll waive the early cancellation fee on your first plan; applies one time only for new Gexa Energy residential customers. Your contract term will restart with your second plan. Offer subject to change or withdrawal prior to customer acceptance.