Turn every weekend into a free electricity 3-day weekend...Friday, Saturday, Sunday.
Texas weekends are unlike any other. From the Friday night lights to the Sunday family barbecues, we know how to make the most of our time together.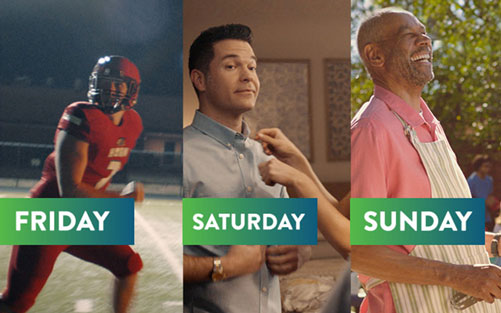 More Free Electricity Every Weekend - All Year
Let us help make your weekend even more special. That's why our Free 3-Day Weekends Plan gives you free electricity every Friday, Saturday, and Sunday.
That means you get FREE electricity all day and all night Friday, Saturday, and Sunday every week—all year long! So go ahead and focus on more important things, like family, friends, and football.
With Gexa Free 3-Day Weekends Plan you get:
Free electricity for 3 full days and nights every week starting at 12am Friday until 12am Monday!*
Locked-in low price for 12 months
Friendly and helpful Texas-style customer care
We're Texans serving Texans and we're proud to offer trustworthy, dependable and low-priced plans across our great state.
*Free electricity usage from 12:00 AM Friday to 12:00 AM Monday. Monthly and other billed charges apply normally. The price can change only to reflect actual price changes that are allowed by the Public Utility Commission due to changes in law or regulatory charges. See Electricity Facts Label for details. Eligibility requirements, terms and conditions apply.