Learn more about electricity providers in Texas and how you receive electricity.
Consumers in most parts of Texas can evaluate electricity plans and choose the one that's right for them. Since 2002, with the deregulation of the electricity market in Texas, consumers have had options when choosing an electric company.
We want to make it easy for you to learn about electricity providers in Texas and their role in how you receive electricity. Essentially, a power generation company sells power to a Retail Electricity Provider (REP), such as Gexa Energy, and the REP works with each Transmission and Distribution Service Provider (TDSP) to ensure electricity is delivered to customers in the correct service area. The information below describes the different types of companies and how they work together in the electricity market:
Power Generator: Power generation companies own and operate facilities that create electricity. These facilities include all types of power plants including coal, nuclear, natural gas and renewable energy, such as wind and solar.
Retail Electricity Provider (REP): A Retail Electricity Provider (REP) sells electricity to residential and commercial customers, offers a variety of plan rates and options and is responsible for customer service and billing. This is the company you are choosing as your electricity provider. Gexa Energy is a Retail Electricity Provider serving customers throughout Texas and provides a choice of energy plans at affordable prices, with plans that include 100 percent renewable energy.
Transmission and Distribution Utility (TDU): These companies are responsible for the transmission and distribution of electricity service to all homes and businesses within a service area. A Transmission and Distribution Utility (TDU) owns, maintains and repairs all of the lines, wires, poles, and meters in their service area. The six TDUs in Texas are: Centerpoint, Oncor, Texas-New Mexico Power, AEP North, AEP Central and Sharyland.

Customers: Consumers can choose their REP and as customers of the REP are provided with electricity services from a TDU that services their area. Customers pay electricity bills to their REP and contact their REP for service-related questions.
Generators create electricity and that electricity is sent to the Texas electricity grid.
Electricity is sold to the Retail Electricity Provider (REP) who sells it to its customers. REP handles service and billing.
Transmission and Distribution Utilities (TDUs) delivers electricity to customers. TDU ensures reliability, maintains lines and poles, reads meters.
Customers choose their REP and enjoy the benefits of a plan that fits their needs.
The Texas Energy Market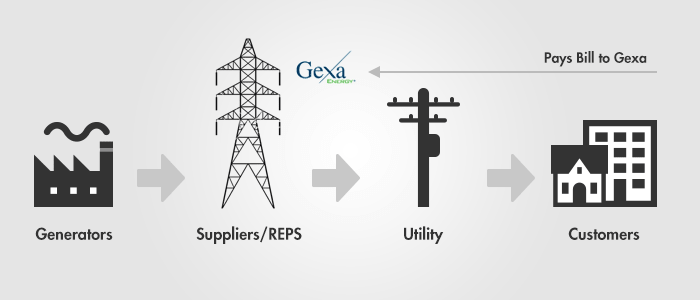 This infographic demonstrates the journey of deregulated energy delivery. Your Transmission and Distribution Service Provider (TDSP), generates and delivers energy to your home. Suppliers/Retail Electricity Providers (REP), are the companies you choose to sell you energy, and the ones you pay the bill to, that's Gexa Energy. The Public Utility Commission of Texas (PUC) determines rates for transmission and distribution service while the Electric Reliability Council of Texas (ERCOT) oversees reliability and security.