From identifying energy-saving and water conservation opportunities to managing large-scale construction projects, Gexa Energy Solutions LLC is an Energy Services Company (ESCO) committed to serving businesses, federal, state and local governments.
We design and develop energy efficiency and water conservation projects:
Lighting retrofits
HVAC installations and improvements
Central cooling plants
Backup generating systems
Energy management control systems
Motors, boilers and steam systems
Variable speed drives
Power-quality solutions
Renewables / Solar
Measurement and Verification (M&V)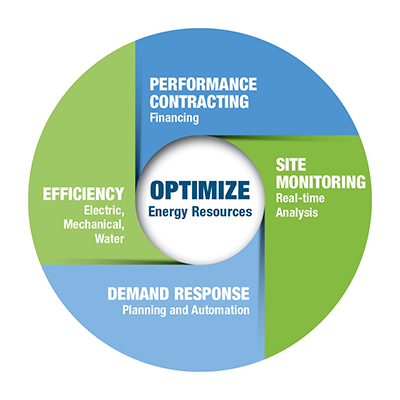 Leaders in Renewable Power
Gexa Energy Solutions is a subsidiary of NextEra Energy, the #1 producer in North America of zero-emissions energy from the wind and a leading producer of zero-emissions energy from the sun.
Turn-key service
One point of contact for the entire project
Energy analysis, feasibility studies and auditing
Engineering, design and implementation
Equipment procurement and installation
Construction supervision and management
Equipment commissioning
Staff training
Project financing and performance arrangements
Ongoing service and maintenance
Gexa Energy Solutions LLC is a subsidiary of Gexa Energy LP and NextEra Energy, Inc. ESCO (Energy Service Company) projects within Gexa Energy's service territory are conducted by Gexa Energy Solutions.